Buy Original Taylor Pork Roll aka Taylor Ham, 

Trenton Pork Roll, Sabrett's Hot Dogs, Habbersett Scrapple

and More at the Lowest Prices Online Including Shipping
Pork Roll Shirts, Holiday Items, Fralinger's Taffy and more
Sending "A Taste of Home" to someone you love since 2004


Toll Free 1-866-4NJ-PORK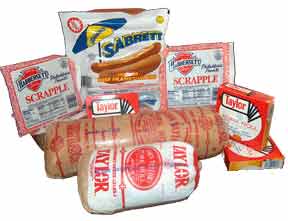 "The Difference is the Guarantee"
Sign up for our Newsletter and receive sale and discount information
Jersey is famous for far more than landfills, the Sopranos, and the lovely children of "The Jersey Shore" Show! From the Garden State came the genius of Thomas Edison, the talent of Frank Sinatra, Bruce Springsteen, Bon Jovi, the first baseball and football games, salt water taffy,  diners, and so much more. Maybe you're not so grateful for Jerry Lewis, traffic circles, or the Miss America Pageant, but one of the best foods in the world  comes from New Jersey, Taylor Ham or Taylor pork roll! Slice it thick or thin, tangy or mild, make the four little cuts around the edges so it doesn't curl when you cook it, and brown it till it's just the way you like it in a honest-to-goodness Jersey Diner.  A perfect sandwich of a state, we're right between New York and Philadelphia so the foods we have to choose from are the best.
Even if you can't get to Jersey right now, you or the Jersey boy or girl in your life can have a taste of home shipped anywhere in the United States for $13.90. ( Hawaii is higher and limited shipping in NJ)
When you buy Taylor Ham or Trenton Pork Roll online from Jersey Pork Roll, it will will arrive at your door in the least expensive way possible, packaged professionally, fully insured and guaranteed.  Habbersett Scrapple, Sabrett Natural or Skinless Hot Dogs, Fralinger's Salt Water Taffy and Boardwalk Seafoam Fudge, Peanut Butter Chews, and other unique East Coast regional NJ foods are available also. Ask about our custom shopping and we'll tailor your order to your exact wishes. People write in from all over the country sharing their pork roll Taylor Ham or Pork Roll Memories. Please read through some of the stories and feel free to submit one of your own!
©JerseyPorkRoll.com-NJPorkRoll.com 2004-2018