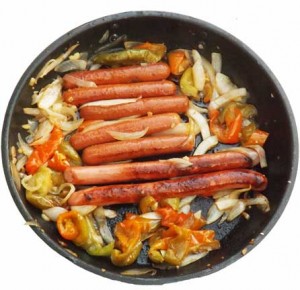 Pictured above – 5 Sabrett Hot Sausages and 2 Natural Casing
Olive oil
Peeled, thin slices of white potatoes
Sliced frying pepper
Thick sliced onion
Salt
Black Pepper
Sabrett hot dogs
Garlic, Parsley, Oregano or other spice as desired.
In a large frying pan, spray bottom or add enough oil to cover the bottom. When oil is hot, add potatoes and fry till brown on one side, turn and cook the other side. Do not stir potatoes while cooking. Set to the side.
Add peppers and onions and cook till lightly browned. Add hot dogs till they are browned. Add potatoes and blend all ingredients. Add salt and pepper or other spices as desired.
Serve on Pizza Rolls, Italian Bread or any other hard crust bread.